Artemisia Gentileschi Artwork | Assignment Collections | assignmentcollections.com
[ad_1]

The Lots and his Daughters is a piece of artwork that affirms Artemesia Gentileschi was utterly unique. Artemesia is a celebrated Italian Baroque painter working in Caravaggio's style and she produced professional work in times when women had minimal chances to pursue artistic works[1]. Her father, Orazio Gentileschi was a painter and she learned painting in his workshop. Orazio introduced her to the Michelangelo Caravaggio who significantly inspired his artwork. Moreover, Orazio contracted a Florentine artist, Agostino Tassi, who was his fellow worker at the Pallavicini Rospigliosi Palace to privately tutor Artemesia. Unfortunately, Tassi raped her during the tutelage. Instead of reporting the incident, she ended up becoming submissive to him and continued to have sexual relations as Tassi promised her marriage. It was when Tassi ended up the relationship that the rape case surfaced and Tassi was charged and imprisoned for a year. To a large extent, her personal history influenced her perceptions of the artwork. In one of her works, Lot and his Daughters, she incriminates Lot in the sexual acts that are to happen.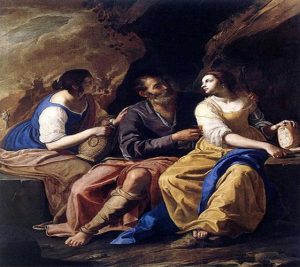 Artemisia Gentileschi 1593 – 1656 Lot and his Daughters
The above image depicts a theme of sexually triumphant females. The story is based on the Bible and it represents the victimization of women. Her art seems to be linked to the innermost layers of her personality[2]. Further, her work is autobiographical as it relates to her most noteworthy fantasy system, not because of particular events in her own history. Artemesia chose to represent the winning and dining scene before seduction. The two daughters sandwich their father at the cave's entrance. She narrating about the three primary figures that are intricately intertwined by a system of rhyming legs and arms. Lot's arm on the daughter's shoulder rhymes with the daughter's arm on a wine jug and shows a strong physical linking. Artemesia portrays a scene that is distinctive from other artists who portray Lot as being so drunk and incapable of preventing the incest. She does not represent Lot as a passive victim of the circumstance. Instead, she portrays all the as having an active role in the incest that is about to ensue. Biblically, the lasses are virgins, a state that will shortly change.
From the way she tells the story, Lot is a man that is enjoying himself and encouraging his daughters to have pleasure in what is happening. Being a female in the era in which she lived, she views Lot as a lecherous old man. She is a feminist, Artemesia developed innovative paintings to bring her message of male impunity and lust. Artemesia departs from the Bible through Lot's action, as seen in the image. The biblical tale is about the daughters pursuing their father with a wine such that he becomes drunk and unable to know what happens[3]. But, a close look at Artemesia's Lot and his Daughters, shows Lot plying the daughter on the right (he is passing her a wine glass) not the other way round[4]. Besides, his facial expression not of a befuddled man, but one that is in a desire and enjoyment.
Conclusively, Artemesia Gentileschi narrates the biblical story in a distinctive version that incriminates Lot in the sexual acts that are to happen. In other words, she is telling her audience that Lot is equally a guilty man. He is a represented a lecherous old man who is beginning to enjoy himself with his daughters, encouraging them to take pleasure in winning. As a female artist in the period when males dominated the industry and women artists overlooked, Artemesia fervently fought back. She has a different perspective about the male character from what is narrated in biblical tales where Lot is known as being pursued by his daughters with wine and gets drunk. Other than being a feminist, probably, her being raped changed her view of men. Therefore, Artemesia Gentileschi does not want her audience to passively believe that Lot was just an aged man being deceived by his daughters.
[ad_2]
#write essay #research paper #blog writing #article writing #academic writer #reflective paper #essay pro #types of essays #write my essay #reflective essay #paper writer #essay writing service #essay writer free #essay helper #write my paper #assignment writer #write my essay for me #write an essay for me #uk essay #thesis writer #dissertation writing services #writing a research paper #academic essay #dissertation help #easy essay #do my essay #paper writing service #buy essay #essay writing help #essay service #dissertation writing #online essay writer #write my paper for me #types of essay writing #essay writing website #write my essay for free #reflective report #type my essay #thesis writing services #write paper for me #research paper writing service #essay paper #professional essay writers #write my essay online #essay help online #write my research paper #dissertation writing help #websites that write papers for you for free #write my essay for me cheap #pay someone to write my paper #pay someone to write my research paper #Essaywriting #Academicwriting #Assignmenthelp #Nursingassignment #Nursinghomework #Psychologyassignment #Physicsassignment #Philosophyassignment #Religionassignment #History #Writing #writingtips #Students #universityassignment #onlinewriting #savvyessaywriters #onlineprowriters #assignmentcollection #excelsiorwriters #writinghub #study #exclusivewritings #myassignmentgeek #expertwriters #art #transcription #grammer #college #highschool #StudentsHelpingStudents #studentshirt #StudentShoe #StudentShoes #studentshoponline #studentshopping #studentshouse #StudentShoutout #studentshowcase2017 #StudentsHub #studentsieuczy #StudentsIn #studentsinberlin #studentsinbusiness #StudentsInDubai #studentsininternational

https://assignmentcollections.com/wp-content/uploads/2020/12/Logo-Assitbin-300x57.png
0
0
admin
https://assignmentcollections.com/wp-content/uploads/2020/12/Logo-Assitbin-300x57.png
admin
2022-09-27 18:08:20
2022-09-27 18:08:20
Artemisia Gentileschi Artwork | Assignment Collections | assignmentcollections.com